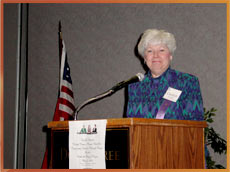 Dear Friend,
We have gone virtual! It is our great pleasure to invite you to the Twenty-eight Annual Inland Empire Prayer Breakfast in an online event! Each year, leaders like you who represent business, education, public safety, elected officials, and leaders from churches and ministries throughout the Inland Empire have gathered to lift our shared community and one another up in prayer. We invite you to continue that legacy as you join us in the online event on the National Day of Prayer, Thursday,
May 6th from 7:00 am to 8:30 am.
The legacy of those who attend the Inland Empire Prayer Breakfast is to be anchored in prayer for our civic, business, education, public safety, and ministry leaders. Although we cannot meet in person because of the current restrictions for large meetings, we will continue the tradition to pray for one another in our online event.
We will have a time of worship, a speaker, and pray for members of our community. We will be focused on the National Day of Prayer theme: "Love, Life & Liberty" demonstrated through 2 Corinthians 3:17: Now the Lord is the Spirit, and where the Spirit of the Lord is there is liberty.
Our speaker this year is Steve Shwetz. He is a volunteer with Thru the Bible radio program, hosting the program since the early 1990s. He also serves as the Vice Chairman of the Board of Directors of Thru the Bible. Steve leads a successful real estate business based in Upland.
For us to be online, Water of Life Community Church will be providing the technical expertise. For you to receive the link to the event and to receive our pre-addressed prayer post cards please register at Eventbrite (click on the tickets button on the site) or fill out the enclosed return envelope and be sure to include your email. You may pay by check made payable to Inland Empire Prayer Breakfast using the enclosed return envelope or you may pay by credit card or PayPal at Eventbrite.
A
s usual, the cards go to local, regional, state, and national leaders acknowledging your prayers for them. Cards will be mailed to you as soon as we receive your request. Each set consists of four pre-addressed post cards for you to pray over and mail.
Although we will not be meeting in-person we hope that you will support our virtual event by sharing in our expenses with one of the following sponsorships or an amount of your choice.
Golden

Sponsor $200 (includes 10 sets of prayer cards)

Bronze Sponsor $100 (includes 5 sets of prayer cards)

Silver Sponsor $25 (includes 1 set of prayer cards)
We look forward to praying with you on the National Day of Prayer, Thursday, May 6th. To If you need further information, please call (909) 987-9558 or email us at: ieprayerbreakfast@gmail.com
In His Service,
Carolyn J. Preschern
Moderator
COPY AND PASTE TO SEE THE EVENT; https://iepb.online.church/
TO ATTEND IN PERSON Water of Life Church: 7625 East Avenue, Fontana. DOORS OPEN AT 6:30 AM,